2021-01-12
Modern SecMaths AR 1B and Modern SecMaths AR 2A is available in App Store for downloading
2021-01-08
e++ Triangles (App Version) is available in App Store for downloading
2020-10-16
The corrigenda of Book 1A is uploaded to the "Corrigenda for Textbook" section.
2020-09-23
"Teaching Resources > Teaching Aids", "Students' Resources > Mathematics Readers" and "Assessment > Online Assessment (Google Form Format)" have been released.
2020-09-23
Book 1A eBooks (with footer glossary recordings) in Modern eBook APP will be updated on 2020/9/30. Teachers and students can download the latest version of eBooks before lessons.
2020-08-28
The Teacher's Edition of both Books 1A and 1B of Modern Secondary Mathematics have been delivered to schools
2020-08-10
e++ Energy Biscuits (App Version) is available in App Store for downloading
2020-07-20
Modern eBook APP (iOS version) is available in App Store for downloading
2020-07-10
Modern Secondary Mathematics 1A Teacher's Edition has been published, and will be delivered to school shortly
2020-04-16
Innovative elements for learning - Overview of Junior Secondary Mathematics Textbook
2020-03-23
Modern Secondary Mathematics Sample has been distributed to schools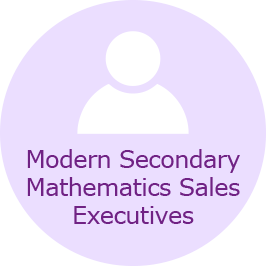 | Sales Executive | Contact No. | District |
| --- | --- | --- |
| CHAN Shun Tze, Gigi | 6898 6705 | Kwun Tong District, Kowloon City District, Sham Shui Po District, Sai Kung District |
| LAM Po Ming, Andy | 6293 0715 | Wong Tai Sin District, Yau Tsim Mong District, Tai Po District, Sha Tin District |
| YICK Ming Wai, Anna | 6293 0720 | Central & Western District, Eastern District, Southern District, Wan Chai District |
| KWOK Sai Hau, Jack | 6299 7193 | Kwai Tsing District, Tsuen Wan District, North District, Yuen Long District, Tuen Mun District, Islands District |